---
We offer machines that completely cover all stages of processing of almonds, from cleaning after harvesting to final quality control and packaging for the customer and consumer, including processes such as:


Our range of products and solutions is huge, below are some outstanding machines manufactured by BORRELL® and other partners such as FAM®, Mejisa®, Cox & Plant®, among others.

Do not hesitate to contact us for additional information, for us it will be a pleasure to assist you with no obligation according to your needs.

Please click on the desired machine family for further information.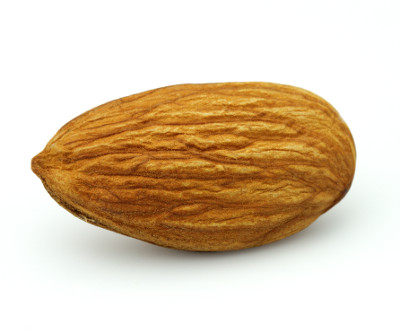 ---
Almond Hullers & Pre-Hullers

New, improved and patented BORRELL® Rotary Hullers!
Great hulling quality, produces high in-shell % and low meats.
High capacity, up to 25,000 lb/h
Easy cleaning and low maintenance requiriments, no rubber parts.
Built-in VFD and torque control.
New interchangeable sizes or adjustable/self cleaning models.
Can handle higher moisture product.
Suitable for all almond varieties (Non-pareil, Carmel, Mission, Marcona, Guara, Ferragnes, etc)
---
Almond Shellers & Crackers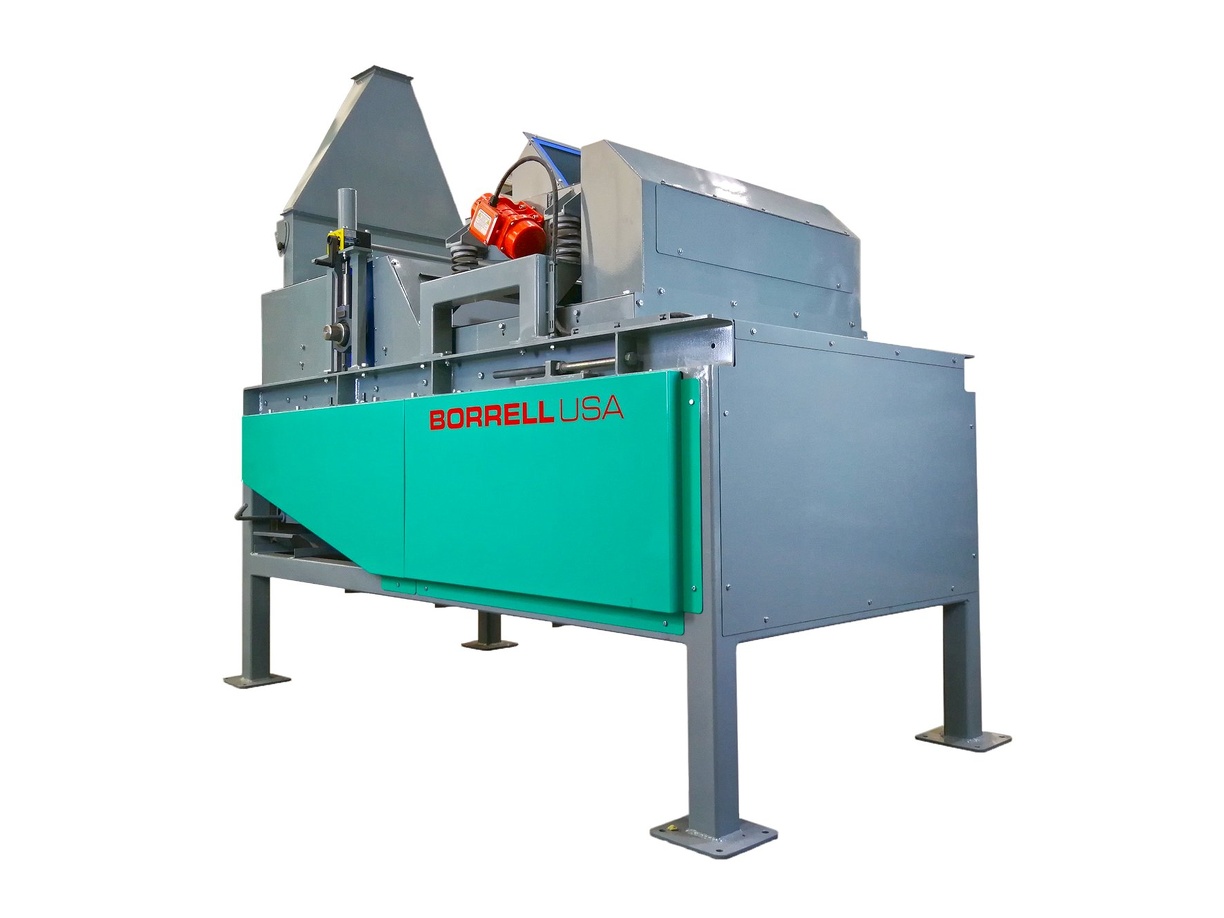 BORRELL® Shear Roll 4th Generation
Solid, reliable and smooth design.
Easy adjustments and maintenance.
Standard belt and built-in VFD control.
High capacity, up to 25,000 lb/h

---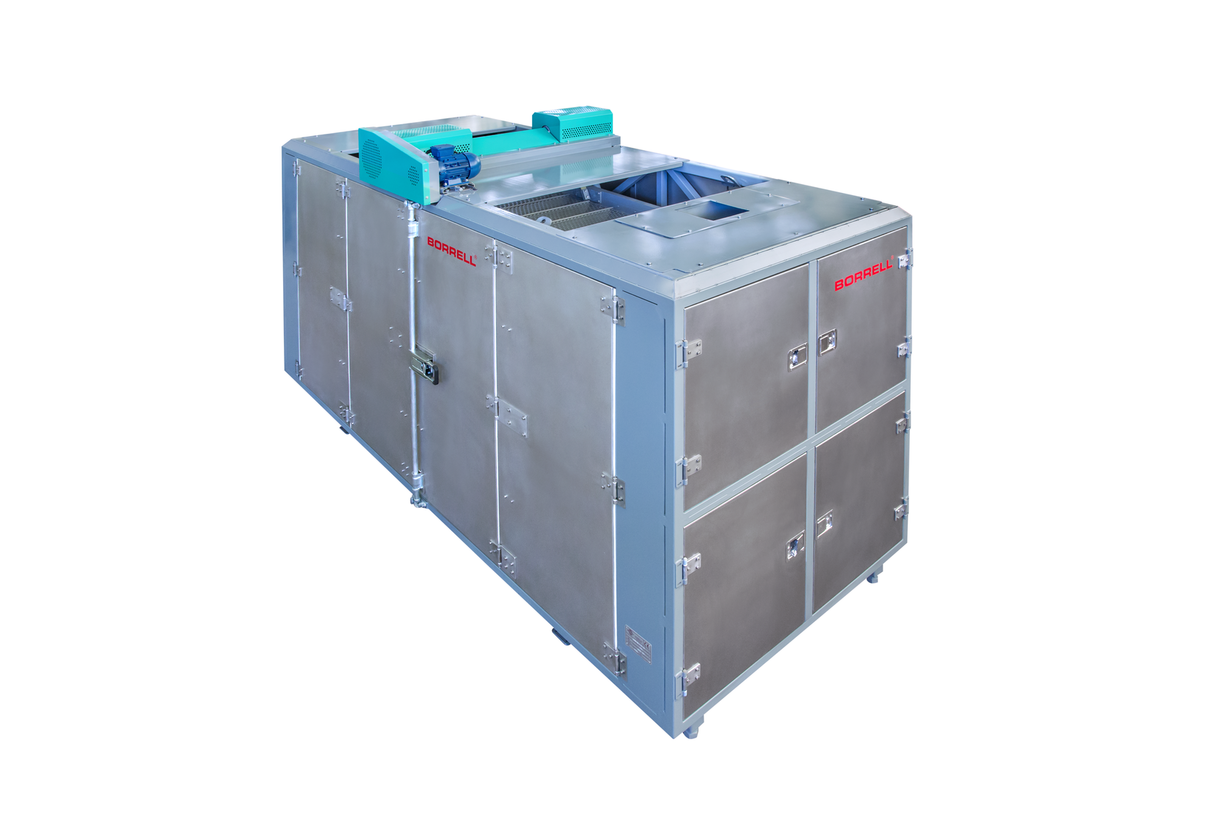 BORRELL® Universal Crackers for Almonds and Hazelnuts.
New high capacity, all-sizes models.
10th generation system, leading technology since 1925.
Almonds are sized, cracked and shelled one by one using 10 or 15 hammer-like bars.
Balanced double-deck sizer with optimized pitch, no size adjustments needed.
Easy and quick maintenance.
Improved design, higher quality shelling process, minimal product damage (splits, brokens)
The best sheller for hard and semi-hard almond varieties.
Up to 15,000 lb/h in-shell input.
Stainless steels doors, screens and hoppers.
---
Sorting, Cleaning & Pre-Cleaning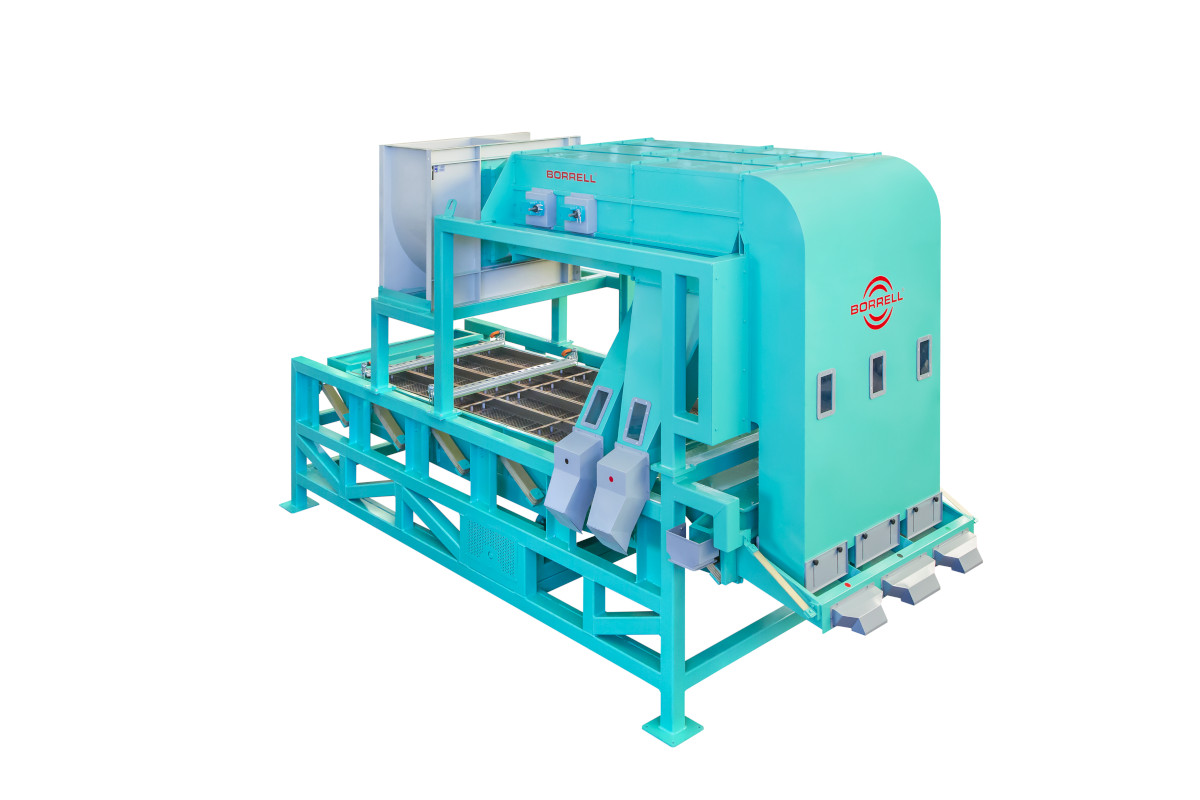 BORRELL® Separators 8th Generation
All-in-one sizers and aspirators. From 1 to 4 airlegs.
Different sizes available, models from 5,000 to 25,000 lb/h.
Different screen types available.
Easy adjustments, reliable and accurate sorting.

---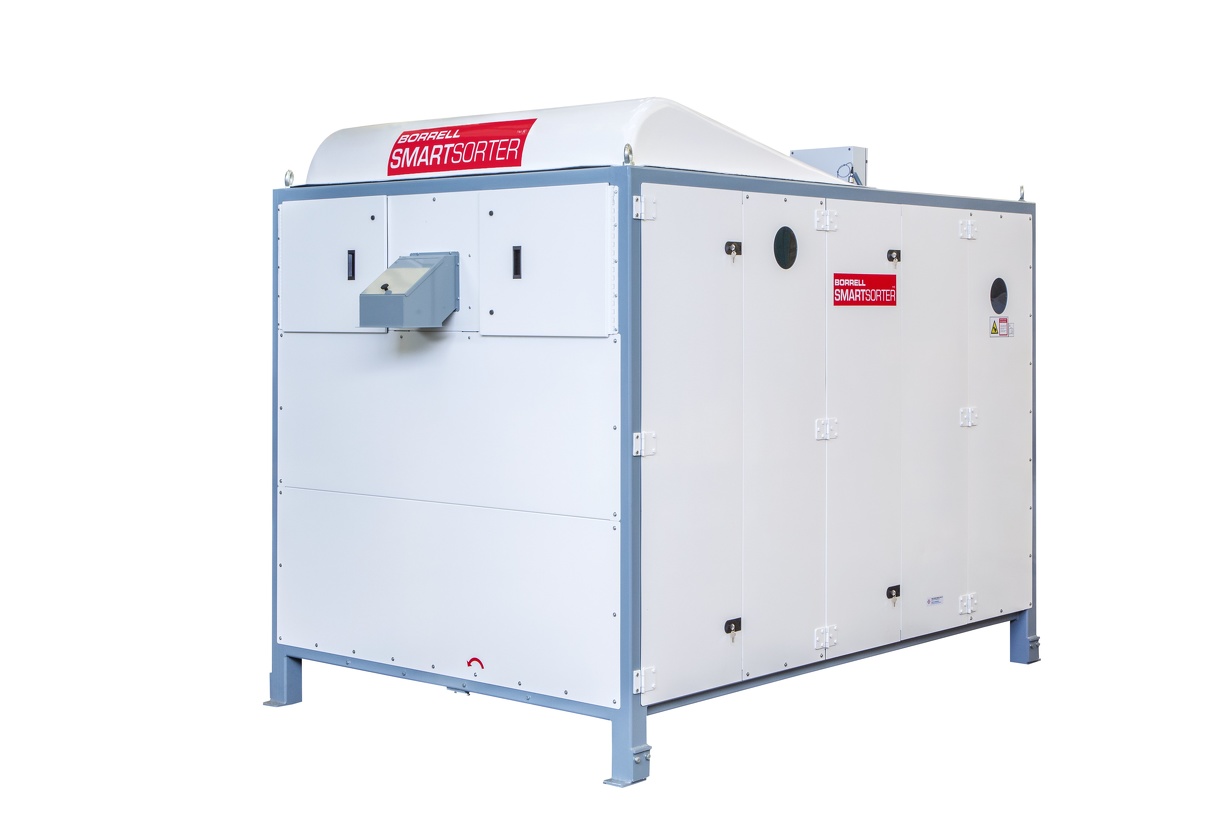 Borrell SMART SORTER® 3rd Generation.
Advanced gravity sorter.
Improved airflow balance, easier adjustment and accurancy.
High quality sorting, clean accept & reject.
Multiple applications for meat cleaning, FM removal and ideal as a hash cleaner prior to optical sorting.
Computer controlled, built-in touchscreen, VFDs and load control

---

FM Cleaners/Separators: De-stoners, De-stickers, De-twiggers & Screeners.
Wide range of sizes and sorter types for foreign material removal and product cleaning.
Capacities from 5,000 lb/h to 50,000 lb/h
Heavy duty and solid design, minimum maintenance and maximum performance.
---
Sizers, Shaker Decks & Feeders

BORRELL® Single, doble or triple deck Sizers & Shakers.
Single or multiple floors or sections.
From 2 to 10 sizes
Wide variety of models depending the application, models with motovibrators or eccentric push rod.
Wide variety of screens types and accesories
Huge range of capacities: models from 1,000 lb/h to 25,000 lb/h
---
Blanching / Peeling

BORRELL® Scalders & Blanchers for Almonds
Hot water & Steam or steam only scalders:

Low water consumption
No plastic parts/chain
High thermal efficiency
High quality scalding.
Models available for 1,200 lb/h, 3,000 and 6,000 lb/h
Almond blanchers:

Hygienic design
Safe & accessible
Easy & fast sanitation
Low maintemnence.
Exclusive modular roller system, ligh rolls, easy on and off.
Patentend electronic roller adjustment system
High quality blanching.
---
Cutting: Slicing, Slivering, Dicing, 3D Cutting

FAM Centris® Slicers for Almonds.


State of the art, patented, high performance slicer by FAM Cutting Technologies.
High quality cutting and yield.
High capacity: up to 4,000 lb/h
Low moisture required (5.5-6.5 %)
More cutting stations allow lower speeds and longer blades lifetime.
Low maintenence and fast ROI.
Direct transmission, stainless steel motor.
Built-in VFD control.
NEMA 4X, hygienic design.

BORRELL® Slivering machines.

New and improved design, dual shaft cutting system
Hygienic design.
High quality cut
Models for 1,200 lb/h, 2,500 lb/h and 4,000 lb/h.
Models available suitable for dicing (accesorie required)
Built-in VFD control and feeding system.

BORRELL® Dicers

Simple and reliable
Hygienic and modular design
Big dice models (cross-cut) available.
Adjustable dice size
Stainless steel rollers.
Models for 1,200 and 2,500 lb/h.

FAM FlexiFAM® 3D Cutter


Perfect cubes
3D Cut
Different cube size availble (require to replace blades/separators)
High quality cut.
Capacity up to 2,500 lb/h
---
Milling: Regular and Ultra-fine Almond Meal/Flour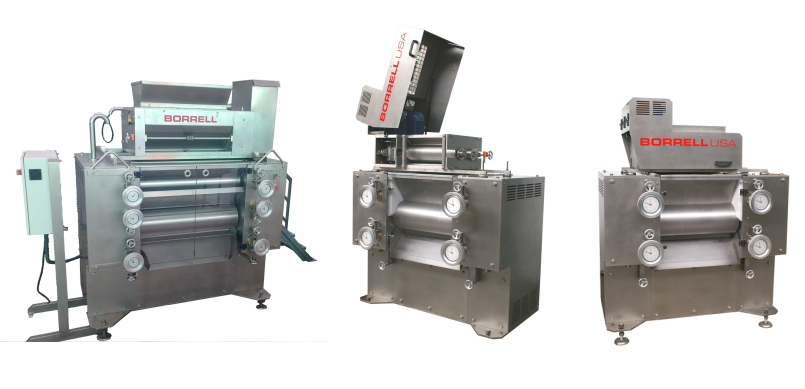 BORRELL® by MEJISA Almond Milling machines.
Stainless steel (Ultra-fine almond flour) or stone rollers (regular almond flour).

Models with 3 and 4 rollers + dicing rollers.
Improved water-cooled system, insulated, stainless steel rollers (Ultra-fine models)
High quality flour, low oil or granules produced.
Easy sanitation and low maintenance needs.
Easy adjustments.
Models for 1,000 lb/h to 3,000 lb/h
---
Dryers & Coolers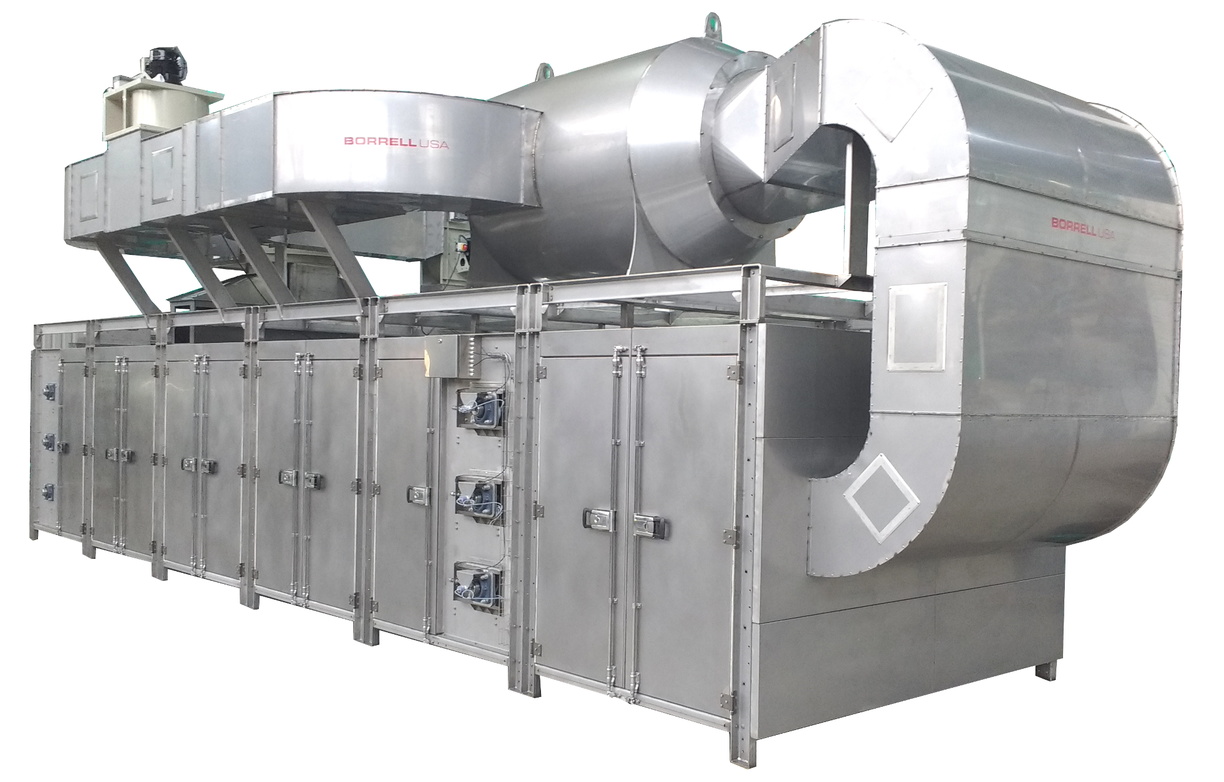 BORRELL® Multi-Pass Dryers for Almonds, New Generation.
Modular system, improved system, reliable.
High thermal efficiency, balanced recirculation system.
High drying performance.
Wide range of capacities: 4 or 6 passes, from 1,500 lb/h to 10,000 lb/h
Model available for 4.5% or 2% final moisture.
Higienic design.
Suitable with steam, hot water or gas burners as heat source.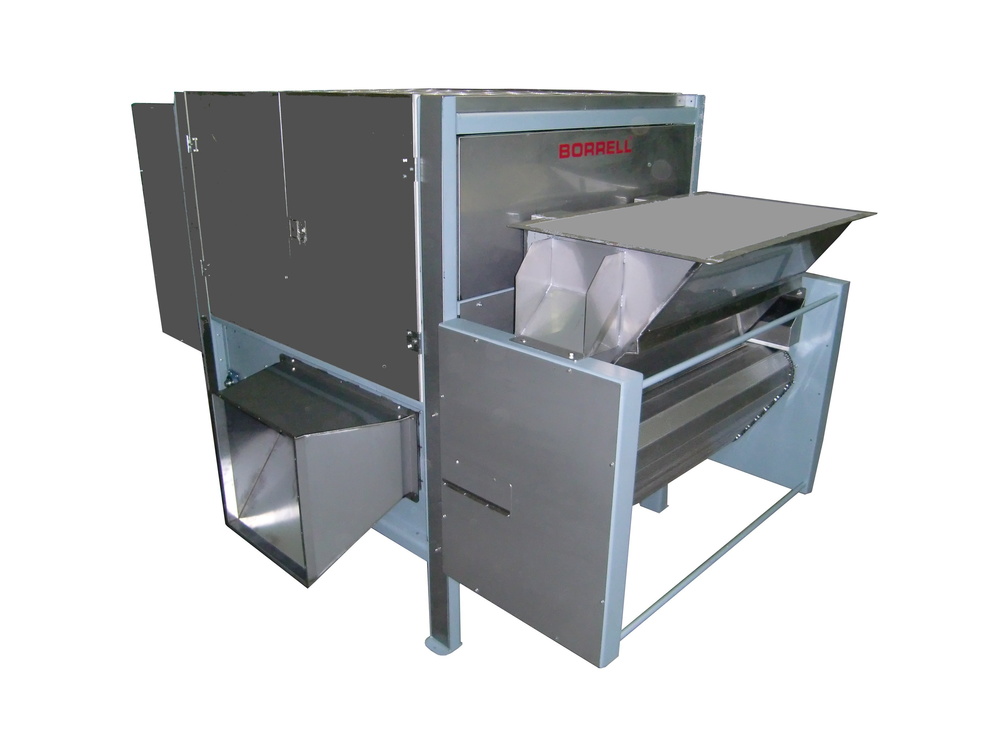 BORRELL® Modular Coolers for Almonds.
Modular system, from 2,000 lb/h to 25,000 lb/h
With or without air recirculation, depending the environment.
Suitable with ambient air or cooled air.
Very high performance.
---
Roasters for Almonds, Hazelnuts & other Nuts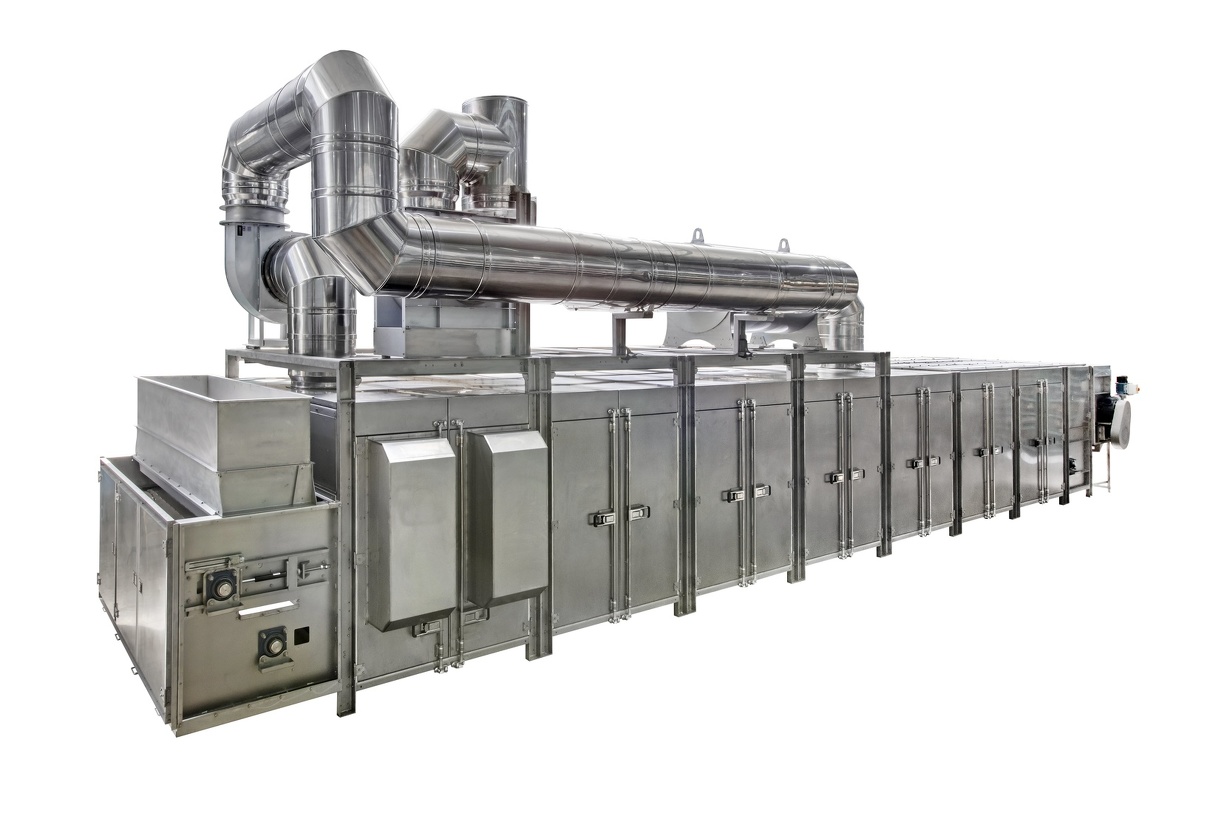 BORRELL® Taming Sun® Single-Pass Roasters & Dryers.
High thermal performance, air recirculation system.
Stainless steel belt system.
Solid improved design.
Include cooler section in most models.
Different wides available and modular, expandable, system.
Easy sanitation.
Models from 1,500 to 10,000 lb/h.
Several options for control and temperature monitorting.
Suitable for dry roast pasteurization system (requires additional options and on-site certification)
---
Pasteurization & Thermal Conditioners
BORRELL® Patented Pasteurization & Product conditioner.
BORRELL® Continuos Belt-type pasteurizer.
---
Almond Milk, Almond Paste & Almond Butter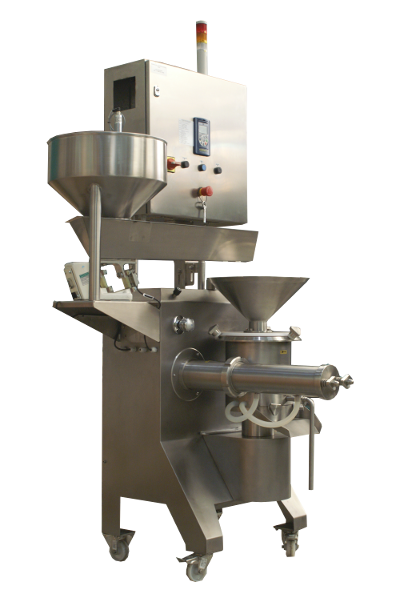 In cooperation with our partners we supply almond milk machines for batch and/or continuos production and other machines for almond paste, butter, ice-cream and more.


Very high quality almond milk.
Uses whole almonds (natural or blanched) or brokens or pieces.
Almond pulp (okara) produced is edible for dehidration and low-fat almond flour milling.
Affordable models
Easy operation and maintenance.
---
Conveying & Storage
BORRELL® Vibratory Conveyors
BORRELL® Belt Conveyors
BORRELL® Z & C Type Bucket Elevators
BORRELL® Screw / Auger Conveyors.
Silos, Hoppers & Feeders.
COX & PLANT® Spiral Vibratory Elevators
COX & PLANT® Electromanetic Conveyors & Feeders
---
Weighing, Packing & Traceability
Continuous and Batch-type Scales & Weighers.
Traceability Software
Packing systems (Big-bags, boxes, sacks, bags)
---
Quality Control & Optical sorting lines
---
Automation, Software Development
---
Consulting, Engineering and more!
---