New FAM Centris® Slicer for almonds
At BORRELL® we're very happy to announce the success of the new FAM Centris® M400 Slicer, special version for almonds and other nuts. It has been developed thanks to our partnership with FAM - STUMABO, manufacturers of advanced food cutting systems & high quality cutting blades.
This new machine is a unique due to its high capacity, reliability, high yields, hygienic construction, quick sanitation, easy adjustments and low maintenance and operation costs.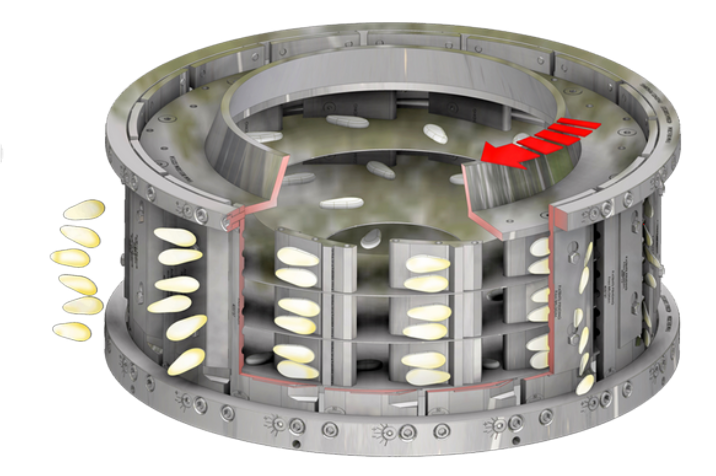 Some highlights and features, as follows:
Extremely precise centrifugal cutting principle with new and innovative patent pending cutting head technology.
Different impellers available depending on the application.
Impellers have round edges and vertical grooves to guide the product perfectly.
The 100% stainless steel cutting head weighs 12 kg, has 16 cutting segments and a reduced amount of parts, which simplifies assembly.
Unit can be positioned inline or as a stand-alone.
Infeed provides uniform product flow to the cutting head and avoids overloading of the cutting head.
Swivel infeed is an option.
Trapped key interlocking safety system prevents access to the cutting area during machine operation.
Rigid, seamless welded frame with no flat surfaces.
Storage for two cutting heads underneath the machine and designed to fit eurobin.Equipped with a very robust and reliable Direct Drive System.
No expensive gear box that requires continuous maintenance.
Equipped with a 2.2 kW (3HP) motor AC three phase stainless steel motor for low energy consumption and designed for easy sanitation and washdown.
Electrical control of the machine is start-stop without programming or read-outs in order to meet simplicity.
Can be positioned at the back or at the side.
Designed according to CE, FDA and HACCP regulations.
The drive, product and electronics zone are completely separated.
Continuous production of up to 2.000 Kg.h - 4.400 lb.h, approx. (whole meats clean from foreign aterial with a humidity range between 7% - 8% and advisable temperature of 75 C - 85 C / 167 F - 185 F).
We invite you to a demo and test! At BORRELL® facilities or we can arrange a custom demo for you in your production line